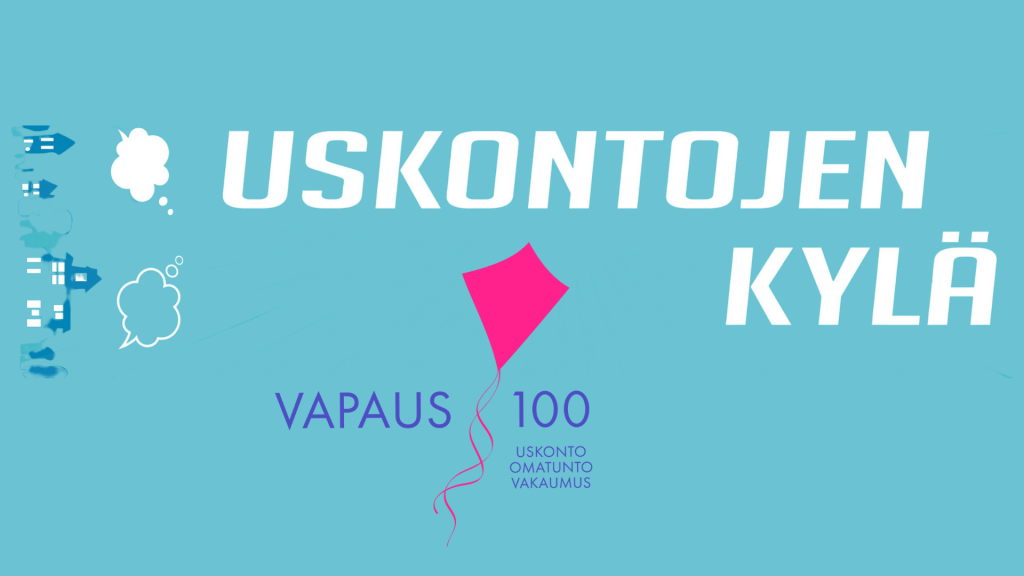 The Village of Religions Exhibition at A507
World Village Festival, Suvilahti, Helsinki
27-28 May 2023, Sat 11-21 Sun 11-19
Admission free!
This year marks the 100th anniversary of the Finnish Freedom of Religion Act! Come to the Village of Religions at the World Village Festival to celebrate and meet people of different religions. The Village of Religions is a place of peace where different religions and beliefs meet in a respectful way. The freedom to believe or not to believe is a human right and a prerequisite for peace. During the weekend, the Village of Religions will feature music from different religious traditions and a Tree of Hope that will be filled with visitors. What transformative power do religions have to promote peace?
The organizers of the Village of Religions:
CORE Forum
The National Forum for Cooperation of Religions in Finland (CORE Forum) brings together six religions: Christianity, Islam, Judaism, Latter-day Saints, Buddhism and Hinduism. The Forum promotes social peace by fostering interfaith dialogue and interfaith literacy.
Lutheran Church in Helsinki: The Evangelical Lutheran Congregations of Helsinki
The Evangelical Lutheran congregations of Helsinki. There are 19 Lutheran congregations in Helsinki, with a variety of activities in Finnish, Swedish, Arabic, English, Chinese, Estonian, Russian and other languages. About half of Helsinki's residents belong to the congregations, but the activities are open to everyone and church membership is not required.
The Jewish Community of Helsinki
There are an estimated 1,500 Jews in Finland, of whom about 1,100 belong to the Helsinki Jewish Community. The community's synagogue is located in Kamppi. The concept of one God and one humanity is a basic premise of Jewish thought.
ISKCON Krishna movement in Finland
The Krishna movement ISKCON (International Society for Krishna Consciousness) represents the monotheistic tradition of Hinduism. The movement has about 100 baptized members in Finland. The temple in Malmi, Helsinki, provides facilities for the practice of bhakti yoga, or loving devotional service to God.
The Church of Jesus Christ of Latter-day Saints
The Church has 30 congregations in different parts of Finland, from Helsinki to Rovaniemi. Church members are called to serve their neighbors through practical acts of love.
The Finnish Bahá'í Community
The Finnish Bahá'í community has approximately 800 members. A century and a half ago, Bahá'u'lláh said: "The realization of this vision is the foundation of the teachings of the Bahá'í Faith and the work of the worldwide Bahá'í community.
The Buddhist Union of Finland (SBU)
The SBU is a cooperative organization of Buddhist groups that promotes and upholds Buddhist values and the practice of Buddhism and works for cooperation between worldviews. Buddhism is a multifaceted religion and philosophy of life. There are about 50 different groups in Finland with more than 15,000 practitioners. The SBU has 13 member communities, the largest of which are the Thai and Vietnamese Buddhist communities.
Ecumenical Council of Finland
The Finnish Ecumenical Council (FEC) is a joint movement of diverse Christians and Christian associations. The FEC has 11 member churches, 5 observer churches and 28 partner organizations.